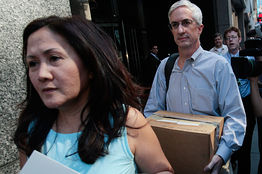 Ramping up to land a new job quickly after redundancy takes thoughtful planning despite the urgency of the task. "The trick to a successful transition is not to panic," says Doug Matthews, Managing Director of Right Management, a human resources consulting and professional staffing company. The most important thing is that you really don't want to hit the job market in a chaotic fashion.
Take stock of your finances

- Identify and prioritise your bills and debt. An immediate need for cash flow may require you to take up temping. It can give you a sense of productivity and give you some good experience. According to a reliable research, the number of people taking temp work has risen 30% in the past two years.

Create a search strategy

– Despite the need to mobilise a quick job search "you don't want to send out a bunch of half backed things into the job marketplace without any thought behind it. Take some time to create a thoughtful and measured approach to your job hunt. Be specific about the position you want and target the companies where you want to work. If there is an onslaught of professionals in your field looking for work as is likely the case in publishing these days because of job transfers to China and India —think creatively about where to apply for your next position. Consider a smaller or bigger company or another industry that may need your skills more.

Determine your worth

– Conduct research with recruiters, career coaches and others in similar positions to the one you're seeking to determine what salary and benefits you can request. Make a checklist of your skills and identify those that are transferable to all industries in a growth mode. Consider that you might need to take a pay cut if you're coming from a high-paying sector. The trade-off, say experts, may be more stability.

Practice your pitch

– No matter how quickly you need to land a job, make sure you process your emotional reaction to job loss. You don't want to jump in unprepared, but rather practice your pitch until it is devoid of as much anxiety and negative emotion as possible. Try it on friends or family, then a trusted colleague or mentor. A successful job search is partly about how you present yourself. "You've got to be out there telling people about yourself!"

Polish and post your CV

– Your CV is your window and calling card to the world of work. Highlight your key accomplishments; remember to showcase your accomplishments and measurable results of those accomplishments. Post your CV on the Internet at general and industry-specific job boards, and get it in the hands of executive recruiters. "You don't want to leave any stone unturned."

Network, network and network

–  About 48% of people found their job through a networking contact, according to a Management survey. Make a list of contacts from your college, university, recent and former employers, charities and volunteer organizations. Reach out and tell them what kind of position you would like, ask people for information and referrals. And take heart, two-thirds of the professionals that are looking end up finding a job within 90 days.
Share and Enjoy