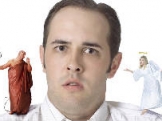 If you want to get the job then don't tell porkies!
The winner of the BBC's reality programme "The Apprentice" faced a barrage of criticism after he was hired by Sir Alan Sugar despite lying on his CV. Lee McQueen beat 15 other high-flying candidates to land the £100,000 a year job with the multi-millionaire business tycoon after a 12 week selection process.
But the former recruitment sales manager's victory was marred by the revelation that he had lied on his CV and at interview, pretending to have spent two years at university when he only stayed there four months. And when confronted with his misdemeanour, he simply replied, "I wasn't actually lying, I'd say I 'misconstrued' the information."
Throughout the filming of the programme, McQueen had endeared himself to the public but the world of television is often very different to the world of reality. Indeed, Christopher Davies, a professional support lawyer in employment for Halliwells, said Mr McQueen would never have got the job in real life and warned against anyone considering following McQueen's example:
"This is extremely unusual, that someone who put that information should get the job," he said. "It has got to call that person's integrity into question in the future."
When someone says they have been at college for two years rather than a couple of months, it is a serious issue. He looked very guilty, he knew that he had done something wrong," he added.

CV liars!
But McQueen is not alone. In fact, a recent employment survey in the UK that revealed as many as 50 per cent of all CVs submitted by job applicants in the last 12 months contained at least one falsehood. And a staggering 1 in 5 CVs contained significant inaccuracies or, to be blunt, lies.
The survey of more than 3,700 CVs submitted by job applicants was carried out by employee screening specialists The Risk Advisory Group (TRAG) who described the inaccuracies as 'not merely simple mistakes.'
Sam Remtulla, Head of Employee Screening for TRAG said that the results have "brought to our attention how unscrupulous candidates can be when applying for jobs, and highlight their apparent lack of conscience towards potential new employees."
And one of the biggest faux pas that candidates are guilty of is inaccurate employment dates.

Don't exaggerate dates of employment
With frequent downsizing and job hopping becoming more commonplace, several dates and gaps in your employment history can signal red flags for a would-be employer and harm your chance of securing the job that you want.
Indeed, most people will have a period during their working lives when they have been in-between jobs. But before you are tempted to exaggerate your dates of employment with a certain employer, stop and think.
Minor gaps such as being out of work for a month or two will not need an explanation at all. You can simply opt to omit months when mentioned work dates e.g. "2004 to 2005″ reads much better than "November 2004 to June 2005."
Or if you are currently unemployed, state the date that you left your last employer but demonstrate how you have used your time since leaving such as freelance work, time-out to pursue a personal interest of some sort.
Be sure that you can qualify it by saying what you have learnt from your experience, how you were challenged and how it may benefit your future role.
Hobbies and interests
But it's not just your work history or qualifications that you need to be honest about, your Hobbies and Interests are also fundamentally important to your application.
Keeping your personal interests a secret from the outside world may be the preserve of the rich and famous but, if you are hoping to land your dream job then you need to let the world know more about you.
But choosing what information to include in this section is important. And unless you have discovered a cure for the common cold keep this part of your CV brief.
Just as most job advertisements stipulate certain personality traits required for positions, you should identify what they are and how your hobbies can relate to their requirements.
If, for example, you are applying for a management trainee position but have never held a senior position in your work life, then the fact that you captained your football team, ran training sessions and led your side to the league final will demonstrate your leadership and organisational ability.
However, avoid trying to portray yourself as some amazingly adventurous or gregarious individual because, to be blunt most recruiters couldn't care less. Some psychologists argue that people claiming that they take part in extreme sports, for instance, are prone to exaggeration, or lying in some cases.
Alternatively, admitting to spending your weekends standing on your local railway station platform train-spotting or your love of stamp collecting will almost definitely extinguish any chances you may have had up to that point of getting an interview.
Ultimately, lying about your achievements and qualifications will catch up with you sooner or later whether it be through checks made by the recruiter or employer or, if you get the job, by your weaknesses that will become obvious during the day to day performance.
As Kevin Green, chief executive of the Recruitment and Employment Confederation, said:
"I think it does say something about someone's integrity and honesty. I think a lot of people embellish their CVs but there is a difference between being a little bit creative and making something up."
By Paul MacKenzie-Cummins |

Share and Enjoy