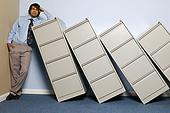 Many people dream about promotion and meteoric career. Unfortunately our dreams don't have such a strong power to come true automatically. In order to achieve success we must do something ourselves and not sit on our hands. Even if you possess wonderful professional qualities, work hard and efficiently, you may remain on one and the same position for rather a long time. You can't put up with this situation, as you are dissatisfied with monotonousness of your work and with your current wage rates. Why does it happen so? What is wrong in our actions, when? Let's talk about our mistakes we make that prevent us from making our career.
The most widespread mistake is our passiveness. We often wait when our boss notices us himself. We think that if we work hard and honestly, fulfil all our tasks in time, our boss will inevitably appreciate our positive features and we will be advanced by all means. But the boss is usually too busy to notice our hard work and dedication and can leave it unnoticed. In this case we should try to attract attention to our personality, because we need it and not our boss. That is why we must take care of ourselves and not to wait till everything happens by itself.
Our next mistake is our self-underestimation. We are often ashamed to admit our efficiency and mastery. This prevents us from starting a conversation with our bosses about our promotion.
The next widespread mistake is too deep concentration on details without holistic approach to our work. In order to fulfil our current tasks ideally we often spend too much effort for nothing and are not able to see the situation in general.
One more possible mistake is our excessive honesty. It usually prevents us from getting a good job. Our excessive honesty does a lot of harm during interviews. When we are asked if we have worked with something or fulfilled certain tasks, we usually answer sincerely and easily give negative answers. You should avoid negative answers at all. You'd better say that you will learn how to do it, and that you are always ready to get new experience and something else of this kind.
The last widespread mistake is our indecision when it comes to the talks about wage increase. You must understand that your employer is not a benefactor and your salary is not a handout. Your work is an article of trade and it should be sold at its real price. That is why you shouldn't hesitate and put aside all your doubts and talk to your boss about your promotion.
Like this article? See more like this at aboutjobonline.com

Share and Enjoy