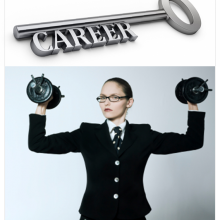 Written by Catherine Adenle
Gone are the days when you could join a company from school or university and expect to be employed by them until you retire. The new world of work now requires organisations to be adaptable, fluid, cost efficient and able to change to meet the demands of society and competition. Therefore, they are required to constantly look at, and improve, quality and productivity. Human beings are one of the resources at their disposal to achieve their aims. However, human resources have a significant impact on costs, the delivery of service and the speed of change. Employers are therefore constantly evaluating their workforce to ensure that it possesses the necessary competencies – skills, experience, knowledge, and behaviours to achieve organisational objectives.
Your career should be something you manage, not something that you need someone else to manage for you. If you're like most people, you'll spend more time on work than in any other activity for three or four decades in the prime of your life. Few endeavours are capable of providing more pleasure and fulfilment or the opposite.  But many of us fail to realise or realize too late that we can play a major role in creating the positive career outcomes that we want and deserve.
Here are 12 reasons to further expatiate on why you have to manage your career yourself:
Achieving success usually involves sacrifice. If it were always easy, everyone would be successful, own a million pound house, drive a Ferrari, travel the world, and have a yacht.
Remember, even if you work for a big company, you are essentially on your own when it comes to your career. Good businesses will offer career paths, training, access to online books, training hubs and team building opportunities, and they want to be fair, but they are also subject to impersonal market conditions like mergers, acquisitions, takeovers, and international competition; so anything can happen any time. Don't blame your company for not helping with your career if you are not doing anything to manage your career. You can take all the resources available to you and utilise them.
Competitions, market fluctuations, innovation, acquisitions, mergers, change – that's the reason why your employer can't be responsible for your career. You have to take charge of it yourself. Those who expect companies to take care of their careers for them or expect their employers to "do the right thing by them" and for them are often disappointed. Chances are, no one will ever care more about your career than YOU do.
Your career is your biggest financial resource–more valuable than any stock you could own. For example, let's assume you're earning £30,000 per annum today. The average annual pay raise is about 3% in the UK. If you are lucky and you earn 5% instead, you'll earn a lot in 15 years. You may be paid what you're worth right now, but investigate the market. Don't over- or under-price yourself. Can you earn more?
Take time to assess your skills, capabilities, attributes, temperament, aptitudes, likes, dislikes, and natural talents. Design your ideal work life on paper, then risk to create your dream. Dare to dream, there's no reason why you can't enjoy your work. If you need any help designing or implementing your plan, seek the advice of a professional career counsellor. Remember; never pay any upfront fees in advance. Pay only by the hour.
Jumping from job to job–from Teaching to Customer Service Representative, then to Fashion Designer, Sales Rep, and Technical Writer–isn't a career. A career builds on itself over time.
The workplace can be cool, fun and challenging. It can also be difficult. It rewards effort, enthusiasm, a can do attitude, planning, and training, but it punishes laziness, indifference, negative attitude and lack of preparation. Those who don't take charge of their own careers, who just let things happen, often end up in painful, dead-end jobs, feeling trapped in unhappy lifestyles.
Think of your career as a public relations campaign. Your goal is to get many people to connect to you as quickly as possible. Therefore, every person you work with – male, female, minority, old, young in your office is important. Treat all of them with respect. Make life a little easier for those around you and your career will benefit.
On any given day, your present job may end abruptly, even if you own the company! Therefore, always think short-term. Don't take your present opportunity for granted. If you wake up every morning and feel unemployed, what would you do differently? You should feel the same way. Get up every morning feeling unemployed, and constantly fight to prove yourself. Appreciate your job, but figure out what you're going to do next. It's always helpful and nice to have a "Plan B."
People skills are just as important as technical skills, because even in highly technical jobs, you have to work with others. Many outplacement candidates are technical superstars who have been fired. They knew their jobs, but couldn't collaborate with others or get along with their teams and managers. Average performers with strong people skills often last longer. It's better to be a people person with average skills than to be an abrasive expert who wins at the expense of others.
Don't stay in a job you hate. Hating your daily routine can ruin your health; and it can make everyone around you, including your colleagues, spouse and family, miserable. Dare to dream, take a risk, have a plan, take action and change things.
Finally, too much success can mess with your head. Learn when enough is enough. If you think you're burning out, you might just be right. Highly successful people are the most subject to burnout. They demand too much from themselves and from everyone around them. Seek work life balance. Remember The Golden Rule which says do all things in moderation.
Tip
You can avoid the mistake of not focusing on your career by asking yourself a few questions that will identify your needs and personal drivers.
Ask yourself:
        For my career development, what exactly do I want and by when?
        What will make you truly fulfilled?
        What am I prepared to do about it today, next week, next month, or next year?
        How do I assess my full potential for a leadership role?
        How can I develop my skills further to get to where I want?
        What do I know about myself that will help me make good career decisions? What are my preferences regarding: working environment/culture, industry, or sector, working with people and management, location, hours of work, holidays, etc.?
        What's important to me, do you have a set of personal values or beliefs?
        What do I know about my personality and style, am I gregarious, pragmatic, assertive, friendly, etc.
        Have I discussed my aspirations with a mentor, my manager, or supervisor?
        How do I know when I am ready for a bigger challenge?
        How can I strengthen and showcase my abilities and put myself in the best position to compete for my ideal job?
        Where can I get good advice and counsel?
Answering these questions can help you manage your career more intelligently and yield a lifetime of professional satisfaction, and fulfilment. Just answering the questions and not taking actions will do nothing for you. So, what are you ready to do now?
Your career may well be the primary vehicle for satisfying many of your personal needs, i.e. your need to feel a sense of belonging, to feel appreciated and to achieve your potential. While we all have different interpretations of these needs, your job can play a key role in satisfying them.
It is important, therefore, that you see your career as something YOU manage. Organisations will support the aspects of your career development that suit their needs, e.g. learning new skills, acquiring relevant knowledge, etc. But, it's ultimately your responsibility to ensure that any unfilled needs are satisfied in order to avoid de-motivation, poor performance, or unhappiness.

Share and Enjoy