Jan 15, 2009
Catherine Adenle
20231 Views
Welcome to Catherine's Career Corner. At Catherine's Career Corner, we empower ambitious candidates of all ages and professions to work smarter, and not harder in their careers.
Catherine's Career Corner was started by Catherine Adenle in August 2008.
Since then, we have been able to keep in touch virtually, share practical tools, workplace tips, job advice, resources, job news and pertinent change management information to help our visitors of all experience to progress in their careers.
Catherine's Career Corner was purely formed to offer free straight forward career guidance and self-help that is critical in ensuring that we provide people with effective career support. We take great care to ensure that we bring you useful information to help you progress and be the best you can be in your career.
We write articles and we also bring you highly relevant articles, tools, and resources put together by experts in the field of career management. Whether you want to exercise greater control over your career, find a new job, clarify and achieve your ambitions faster, manage and cope with change effectively, embark on a self career coaching or consider a complete career change, we have the articles for you.
More about Catherine's Career Corner:
Job Search
There are down-to-earth job search articles, common-sense steps, and tips to help you with your job search. We do realize that there is a lot more to job hunting than just responding to adverts and sending your CV to databases.
There are articles in Catherine's Career Corner to help you perfect your self-marketing, your CV, interview techniques, popular interview Q&A and cover letter tips so that you can showcase your talent, stand out from the crowd and present yourself as the ideal candidate by using a client-centered approach.
See 20 Quickest Ways to Get a Job Now
See How to Get an Online Job of Your Dreams
Job Interview: 7 Key Things Not to Say
 Keeping Your Job
Again, once you secure your job, there are articles on what you should do on day one, week one, and how to fit in and be accepted into the fold of an already storming and norming team. There are also tips to help you deal with your boss.
See 20 Ways to be Indispensable at Work
Career Change
The key to a successful career lies in understanding what you are good at what you enjoy, what matters to you in life and what motivates you at work. There are articles and links to various career resources to help you to be clear about the direction your career should go in.
Our articles on a career change and the embedded links will help you to understand yourself better and identify your career options.
See 10 Ways Artificial Intelligence Will Change Your Career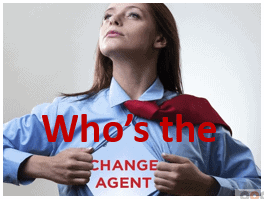 Change 
Small changes occur on a daily basis in all organizations, but nearly all organizations experience major changes at least once, if not several times over a lifetime. Changes can range from transitioning to new software to a complete reorganization of the company.
Change Management
The ability to respond to change is a key role in any leadership position, and how well you direct the overall transformation is crucial to your organization's success.
As an employee, how well you cope with change determines your career altitude in most organizations. Via this site, you will find various articles to help you manage or cope with organizational change.
Every organization needs change, and it is the responsibility of its leaders and employees to initiate and facilitate the change. It takes a lot of commitment, efforts, and dedication for an organization to undergo and sustain its cycle of changes.
As a leader or change agent in an organization, how you manage or cope with change will distinguish you as a true leader from just a figurehead. When an organization places trust in leadership, employees look to those leaders to direct the upcoming change. In doubt? Check Catherines Career Corner for various change management articles.
See 12 Reasons Why Employees Resist Change in the Workplace
See 12 Significant Things to Communicate Before Change
Catherine's Career Corner
All you need is the right advice and tips to succeed and have a rewarding career.
We like to think that whatever you read here will provide you with insightful tips, tricks and secrets of the trade.
Enjoy your view of the articles and remember to leave your comments.
We are on Instagram, Twitter, Facebook, Pinterest. Follow us on any of the channels.
Related Articles
 
<a href="https://plus.google.com/103503143410966422747″ rel="publisher">Google+</a>